I'm filled with happiness today! My almost sister-in-law gave birth to my new nephew this morning! This is their first child and my first time being an aunt. I'm thrilled. He was 6 lbs 8 oz and his name is Myles Patrick. How cute is this little face:
My younger brother, Danny with his son, Myles.
I love babies, so I had to share.
I worked out my schedule for the blog. It's not permanent-if there's something that can be added to make SVH a better place, then I'll definitely take the advice and make a change. Anyhow, here's what I put together:
Monday:
Feeling Crafty (Could be something I made or a tutorial)
Tuesday:
Mommy Moments and Hoo Are You (linking with
Night Owl Crafting
)
Wednesday:
Wordless Wednesday (linking with
Wordless Wednesday
)
Thursday:
I don't have a name for it, but I want to feature a blog that I love on Thursdays.
Friday:
I'll share my favorite crafts and bloggy finds of the week
Weekends:
On the weekends, I'm not committing to blogging, but may post if I feel like it.
I'm open to suggestions and feedback, so
please share!
And now, on to my first edition of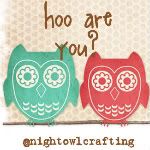 Here are this week's questions!
(They all have to do with food)
1. Are you fond of cooking?
Not really. I'm kind of a dreadful cook. I'm a pretty good baker though, so I pretty much stick to that. It's a good thing that my man is a cook or we wouldn't eat very good.
LOL.
2. What kind of food do you prefer eating when you are out?
If we have a babysitter, we eat at this really great Mexican place. If we don't, we head to a buffet. Scarlett's a pretty picky eater and at a buffet there is bound to be something that she will eat.
3. Which do you prefer, sweet or salty?
Sweet.
4. Where is the last place you ate out at?
El Maguey
5. What's for dinner tonight?
Today was one of Ralphie's nights off. We had pork roast, mashed golden potatoes and (everyone else ate)

his signature Brussel sprouts. The pork and potatoes were awesome!
Alright, I'm going to hop off for now, but I'm so glad you came! Oh, and please don't mind the blog renovations that I'll be working on over the next few days. I promise I'm almost done.

(I think...)
Thank you so much for stopping by! I really appreciate your visit.
(It's good to know that I'm not just talking to myself...)