It's Tuesday, so let's head over and have some fun with
Night Owl Crafting
.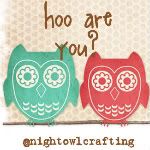 Here are this week's questions:

1. Do you wear glasses or contacts, if so for how long?
I've worn glasses for 2 1/2 years. I'd like to try contacts, but the thought of sticking things in my eye kind of freaks me out.
2. What was your favorite board game as a kid?
I've always loved Scrabble. I love word games and I can't remember the last time someone beat me at it.
3. What is a word that you use all the time?
Seriously and really. I say them far too frequently and the people in my house pick on me over it.
4. What is your favorite day of the week?
I love Tuesdays. I have to get up early, but I go and quilt with a bunch of older ladies in a nearby town. I'm the youngest (by a lot of years) but they're so sweet and welcomed me into their group with open arms.
5. Did you graduate high school from the town you grew up in?
I don't know that I would consider it the town I grew up in, since we moved there while in middle school, but I only attended one high school and I graduated from it.
Those are my answers-what are yours?
Want to win a $25 CSN Stores giftcard? Go to this post and enter to win!