Hello all! It's time for another week of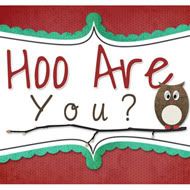 over at Night Owl Crafting
Here is this week's Hoo Are You?
1. What did you get/give for Valentine's Day?
I gave Scarlett a ton of butterfly stickers, a big monkey balloon and 2 coloring books. I received lots of hugs and kisses. I also made Ralphie a card.
2. Do you have a vacation planned in the next couple of months or in the summer?
I'm not sure that it counts as a vacation, but next month we are going to Florida for my brother's wedding and I plan to stay and visit for a few extra days.
3. What is one thing you do to pamper yourself?
Hmmm...I don't really pamper myself. When I was working outside the home I would get my nails done every 2 weeks. Now, the closest thing that comes to pampering is feeding my fabric habit and reading.
4. What sparks your interest to other people's blogs?
Honesty and humor.
5. What kind of a mood are you in today?
I'm in a totally bleh mood. I think it's because I haven't been getting enough sleep lately. I'm feeling really mellow and unmotivated. I had a great day, though. The snow and ice are finally gone and melted enough that we were able to quilt this morning for the first time in 2 weeks. It was lovely! We started quilting a new quilt. It's purple and green and includes one of my favorite fabrics. :)
You guys should totally head over and link up! It's kind of fun. :)
------------------------------------------------------------------------------------
I'm going to sneak away to read for a little while, or maybe play around with my new Make the Cut software for my little Cricut. Hmm...choices, choices.
Thanks for stopping by! I'll be back tomorrow with Words On Wednesday. It was going to be Wordless Wednesday, but I just can't seem to keep quiet lately...
Thanks for stopping by! Much love,